Arcadian Event Complex
Customizable Event Venue in Toronto
Arcadian is a versatile event complex that offers unique and flexible spaces for events of all kinds. From an elegant ballroom, to a modern loft overlooking the city, Arcadian boasts both historic charm and modern sophistication.
The grand Arcadian Court has been restored to its art deco glory featuring modern new amenities, while a flexible contemporary space has also been created in Arcadian Loft. Together, these two spaces form a unique venue which will meet the needs of any event or occasion.
Arcadian Studio, an interactive kitchen studio, is also available for a variety of chef-led culinary experiences ideal for both social and corporate events.
Learn more about Arcadian's historical transformation.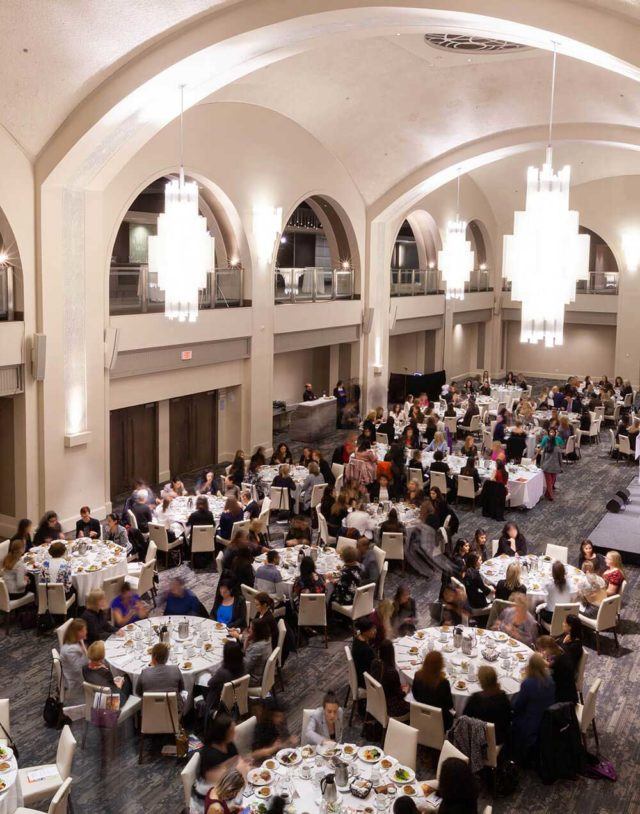 a glimpse into arcadian's rich history
Arcadian Court is a key feature of the last major phase of Simpsons Queen St. store development
Arcadian Court is a key feature of the last major phase of Simpsons Queen St. store development. (Queen St. store first opened in 1894.) Design features include: grand Lalique crystal chandeliers, Byzantine domes, inlay of ornate plaster filigree on arches, and ornate backlit art deco ceiling medallions.
The day after the Court's opening, Tuesday March 12 , 1929, Simpsons for the very first time in its history held its annual spring fashion show in-store, in the magnificent new space.
The earliest radio broadcasts of Toronto Symphony Orchestra, conducted by Luigi von Kunits.
March 11, Simpsons Arcadian Court restaurant opens
On its opening, with its seating capacity of over 1,000, the Court was reputed to be the largest restaurant to be found in a department store.
A brand new sprung wooden dance floor is installed in the Court
None other than Peter Rabbit himself hosted a series of Easter Tea Parties at the Court
For only $0.35, youngsters could have tea and wonderful snacks, visit with Peter (as well as Simpsons' clowns Blinkum and Pedro), enjoy magic tricks and games—and take home a big souvenir balloon.
August 8 – The Arcadian Court reopens after its first major renovation
New décor features delicate peach-tinted walls and turquoise blue dome.
Liberace performance at the inauguration of the Robert Simpson Company's 25-year club, for employees with 25 years' service with the firm
The Arcadian Court is serving over 1 million meals a year
Arcadian Court hosts the first-ever Sotheby's auction outside Great Britain
Artists represented included Gainsborough, Monet and Grandma Moses.
The Court reopens after its 2nd major renovation lasting 5 months
New décor features large 'cloudbursts' chandeliers made of 364 bulbs each, mezzanine railing replaced with smoked glass, ceiling medallions removed and skylights added.
After its renovation and installation of the most modern kitchens in the country,
the Arcadian Court served more daily meals than the Royal York hotel. The kitchens supplied restaurants and sales outlets in other Simpsons stores as well.
A full-size replica of Michelangelo's David was on display in the Arcadian Court
as part of a sales promotion called Italia con Amore.
Arcadian Court reopens after 3rd major renovation.
New décor features large French empire style crystal chandeliers, extravagant layers of crown molding and Roman columns are added along with palm trees and a grand piano.
September 29, 1989, Thomson Gallery, which featured highlights of Ken Thomson's private collections,
opens on the 9th floor mezzanine level of the Arcadian Court. Approx. 5,000 sq. ft. in size, it occupies about half the space. The Gallery Restaurant is opened in the other half of the space.
Special edition Arcadian Court Barbie released
August 22, 1998 — October 4, 1998, The Thomson Gallery hosts travelling exhibit Dresses for Humanity
featuring gowns belonging to the late Princess Diana.
The Bay announces a new partnership with Compass Group Canada and Oliver & Bonacini Restaurants
The Bay announces a new partnership with Compass Group Canada and Oliver & Bonacini Restaurants to transform its restaurants and foodservice offerings including Arcadian Court.
The new Arcadian launches
featuring two distinct and spectacular spaces – Arcadian Court and Arcadian Loft.